Project Structure
---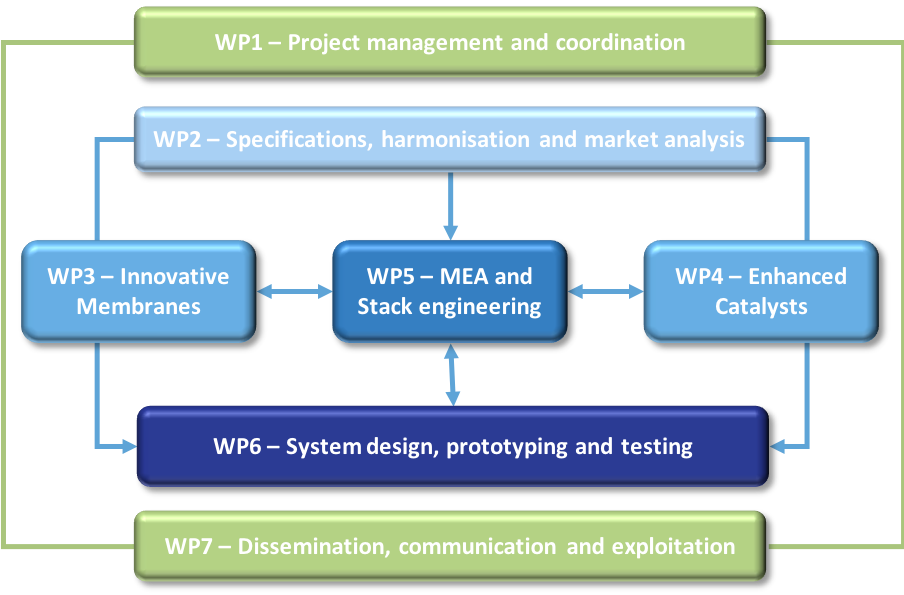 A specific workpackage (WP1) is devoted to the project coordination and management.
WP2 is regarding specification, test protocols for components, stack and system in synergy with previous FCH JU projects and according to the FCH JU Harmonised Testing Procedures developed by the JRC. Market analysis and implementation of policies and regulations for electrolysis application are also addressed in this WP.
WP3 and WP4 are dedicated to the main developmental RTD activities on membrane electrolyte, ionomer dispersions (WP3) and on catalysts including both electrocatalysts for electrolysis and recombination catalyst integrated in the anode (WP4).
WP5 is dealing with MEA and stack engineering. This workpacakge will contribute in validating the new materials in practical MEAs and in PEM electrolysis stack. The MEAs will be evaluated under applications relevant conditions, targeting high temperature and high pressure etc.
System engineering and assessment under industrially relevant environment will be carried out in WP6. This includes the investigation of the dynamic behaviour of the PEM electrolysis system for intermittent operation, with fast response, to address the market requirements individuated in WP2.
Special attention will be devoted to dissemination, exploitation and outreach activities in WP7.